NCC's mission to live into visible unity and be sent forth in the Spirit to promote God's justice, peace and the healing of the world includes working with lawmakers and policy leaders to advocate with those that Christ ministered to. We advocate for racial justice and equity, an end to poverty, health and wellness for all,an end to mass incarceration, and peace in all relationships.
The Health and Wellness Taskforce seeks to convene leaders to address the current health crisis. Churches and faith leaders can positively impact the physical, social, mental health and wellness of their constituents. Together we can look for opportunities to advocate for specific health issues as well as advocate for the most vulnerable, who face health disparities and limited access.
In its inaugural gathering in May 2023, the Taskforce welcomed US Surgeon General Dr. Vivek Murthy. Following this initial event, NCC was invited to present at the White House Conference on Opiods in August 2023. Bishop McKenzie highlighted the work of NCC member denominations, including the United Methodist Church, the Episcopal Church, United Church of Christ, and the Presbyterian Church in her presentation about success stories. Several NCC communions provide resources to congregations to address opioid use and overdose with compassion, others encourage congregations to use their facilities for providing services in underserved rural areas; still others partner with local responders and the medical communities to offer pastoral care to those affected by this epidemic and collaborate with other faith leaders to advocate policies and laws that promote healing and wholeness.
"Faith communities have an opportunity to chip away at the stigma of Opioid abuse and overdose which not only impacts the lives of those who are caught in the vise of prescription drug abuse, but their families who often suffer in silence and the broader community, "said Bishop McKenzie.  "Church is an excellent place to learn about relationship – your relationship with God, relationship with each other and how to repair relationships. The church can be a connector that helps people reenter into community as we learn to change the question from "what's wrong with you?" to "what happened to you?"
engages member communions, policy experts, and advocacy leaders in dialogue about policy matters of concern and identifies how we can collectively advocate and act in a greater way to live and serve "…as a community of communions called by Christ to be visible unity sent forth in the Spirit to promote God's justice, peace and healing in the world."
The Policy Roundtable addresses key policy issues advocated by the NCC and covered in our weekly legislative update, including the debt ceiling, farm bill reauthorization, and reparations. Action items derived from the roundtable include writing letters and making phone calls to lawmakers, submitting op-eds to local newspapers, and building relationships with members of Congress.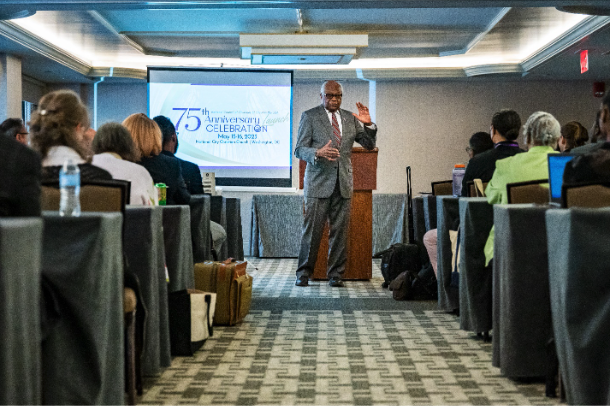 The inaugural gathering of the policy roundtable in May 2023 featured several high-level speakers, including Assistant Democratic Leader, Congressman James E. Clyburn (SC), Amelia Kegan, Associate General Secretary, Policy and Advocacy, Friends Committee on National Legislation (FCNL), Ellen Nissenbaum, Senior Vice President for Government Affairs, Center on Budget and Policy Priorities, Rev. Adam Taylor, President, Sojourners, and Rev. Stanley Jenkins and Prince Solace, Lansing Reparations Representatives.