About the National Council of the Churches of Christ in the USA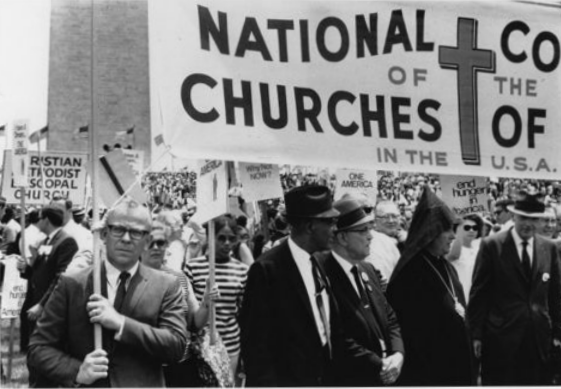 Serving as a leading voice of witness to the living Christ in the public square since 1950, the National Council of the Churches of Christ in the USA (NCC) brings together 37 member communions and more than 30 million Christians in approximately 100,000 congregations in a common expression of God's love and promise of unity. The purpose of the NCC is to live as a community of denominations called by Christ to visible unity and sent forth in the Spirit to promote God's justice, peace, and the healing of the world.
This purpose is served as the communions, striving to express unity by living together as the Council:
  Further their vocation to proclaim Jesus Christ as Savior and Lord;
  Engage in ecumenical worship and in biblical and theological study;
  Challenge and counsel one another in mutual accountability as a witness to the unity of the Church;
  Share resources for unity and mission;
  Strive for peace and justice in the social, political and economic order;
  Practice and advocate careful stewardship of God's creation;
  Act as responsible servants to people in need;
  Foster education about and for ecumenism and engage in all educational efforts from an ecumenical perspective;
  Nurture ecumenical life through relationships with: local, regional, national and world ecumenical bodies, and groups and movements of Christians seeking renewal and unity;
  Cultivate relationships and dialogue with people of other faiths and ideologies;
·   Evidence of their commitment to racial, gender and economic justice as well as in disability and generational concerns.
The member communions of the NCC come from the Anglican, Orthodox, and Protestant traditions, the latter including Mainline, Historic Black, and Living Peace traditions. In addition, there are non-member communions that affiliate with the NCC as observers; these communions come from the Catholic, other Protestant, and still other traditions. Both member and non-member churches contribute to the common work of the NCC.
The work of the NCC is centered around convening tables, wherein collaboration among member communions and partners (e.g., non-member communions) is fostered. There are four convening tables: Theological Dialogue and Matters of Faith and Order; Inter-religious Relations and Collaboration on Topics of Mutual Concern; Christian Education, Ecumenical Faith Formation, and Leadership Development; and Joint Action and Advocacy on Issues of Justice and Peace. Participants at each table are named by their communion, or otherwise invited for their particular expertise in a table's given area of work. Additionally, collaborative work is also done through the Racial Justice Advisory Committee, which focuses on anti-racism work through the ACT Now to End Racism initiative; and the Committee on the Uniform Series, which focuses on Sunday School curriculum materials and annual study plans.
While the work of the NCC addresses myriad theological, educational, pastoral, and social justice issues, it also aligns with named priorities. Over the last decade, these priorities have included mass incarceration, interreligious relations with a focus on peace and, currently and most prominently, ending racism.
Statement of Faith
"The National Council of Churches is a community of Christian communions, which, in response to the gospel as revealed in the Scriptures, confess Jesus Christ, the incarnate Word of God, as Savior and Lord.
These communions covenant with one another to manifest ever more fully the unity of the Church.
Relying upon the transforming power of the Holy Spirit, the communions come together as the Council in common mission, serving in all creation to the glory of God."
This statement is accepted by the NCC member communions (also called churches, conventions, meetings, or denominations). As Christian bodies, they hold these and many other beliefs in common. Each member also has a unique heritage, including teachings and practices that differ from those of other members.
Through their covenant as the NCC, the member communions grow in understanding of each other's traditions. They work to identify and fully claim those areas of belief they hold in common; they celebrate the diverse and unique gifts that each church brings to ecumenical life; together they study issues that divide the churches. And they cooperate in many joint programs of education, advocacy, and service that address critically important needs and witness to our common faith in Jesus Christ.
Membership:
A church body interested in finding out how to become a member of the NCC, should email the Membership and Ecclesial Relations Committee at [email protected] for more information.